Tailift launches Z series
Wednesday, 23 Sep 2015 ( #737 ) – Taichung, Taiwan
News Story
.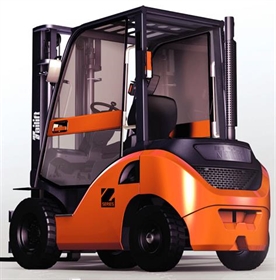 Tailift Z series
Tailift launches Z series16625
Wednesday, 23 Sep 2015 ( #737 ) – Taichung, Taiwan
News Story
Taiwanese manufacturer Tailift has launched its first new product since its acquisition by Toyota Industries Corporation.
Toyota Industries last month gained control of Tailift by acquiring 55% of the spun-off forklift operations for JPY10 billion (USD83 million).
Toyota said the acquisition was aimed at increasing its marketshare in developing economies which accounted for almost 40% of the global market in 2014.
The new Z series consists of 10 new models, with load capacities from 1.5 T to 10 T.
The models are available in diesel, petrol or LPG versions and boast refined ergonomics, improved performance, comfort, safety, easy maintenance and value for money.
The Z series includes an enlarged cabin, a clear-view mast and pedal-type parking brakes.
Vibration and noise are greatly reduced and a wide range of safety functions and devices have been included.
Other design features ensure easy inspection for improved routine maintenance.